SAVE THE DATE - SATURDAY, OCTOBER 5TH

OUR FALL FAIR
Please click on this link for the Fall Fair Update #4. Only 3 more weeks left!!!! We are still very much in need of volunteers before, during and after the fair. Please see link above on where the needs are, but here are a couple.....TENTS...we need TENTS!!! If you are able to supply a tent for the Fair, please contact the Chapel at candleberrychapel@gmail.com, SUBJ: TENTS, or call us at 508.222.2525 and please leave a message. Baked goods are ALWAYS needed at our fairs. If you are able to bake and/or volunteer to help out at the baked goods tables, please either e-mail or call us. The drop-off of items will be announced as we get closer to the Fair date.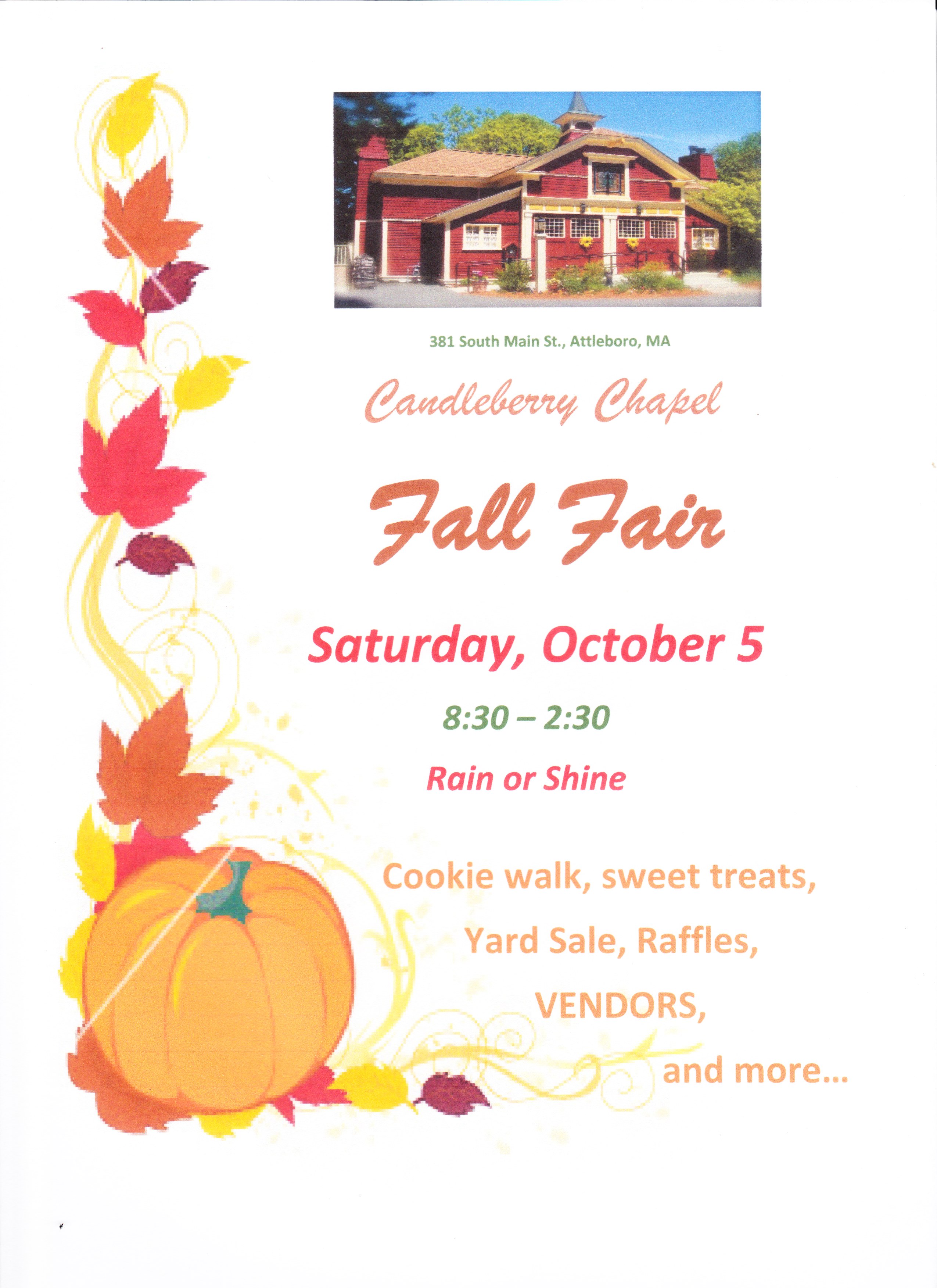 CRAFT GROUP
Our next gathering for our Craft Group will be on Tuesday, October 1st at 6:30 at the Chapel, and then will be held on the first Wednesday of every month at 6:30 p.m., location TBD. If you would like to join in on the fun, please contact Chrys Alam at chryssings@gmail.com SUBJ: CRAFT GROUP for more information.
HOME PLATE RESTAURANT FUNDRAISER UPDATE

Another fun-filled fundraiser for all who attended Home Plate this past Tuesday. We cleared $311.00 for our raffle table. Our winners for the raffles were Dotty McNulty, Scott Pires and Ryan Oldmixon.
CONGRATULATIONS TO EVERYONE!!!!
The total for the food portion is not available at this time, but we will keep you posted. Thank you to all who volunteered to "man" the raffle table throughout the day and night, and especially THANK YOU to HEATHER CAREY, who organized this wonderful event.
THANK YOU, HEATHER....GET WELL SOON
WOULD YOU BE......
Would you or anyone in your household (including teens and pre-teens) be interested in servicing as a worship leader in the future? We would like to bring different folks in to lead the congregation in the "Call to Worship" and "Invocation", as well as read the Scripture. If you, or someone you know, is interested, please e-mail the Chapel Office at candleberrychapel @gmail.com. Thank you
IF YOU KNOW....
If you know of anyone who is in need of a visit, a card or flowers, please call the Candleberry Chapel office at 508.222.2525 or e-mail to candleberrychapel@gmail.com. Without you, we may not know who is in need. Thank you.
DEDICATION OF FLOWERS/BULLETINS
If you would like to sponsor bulletins for a month or dedicate flowers for a given week, please notify the office at candleberrychapel@gmail.com; Subject: FLOWERS or BULLETINS. The cost of the flowers is $25.00 and the cost of the bulletins is $28.00/mo. Thank you.
COFFEE AN'
If you would be interested in volunteering to do a coffee hour after Saturday or Sunday Service, sign-up sheets are available on the board at the back of the Chapel. It's a great time to take some time for ourselves and sit and chat with friends at either the end of a long day or to begin a new day. Please join us.